Social Wisdom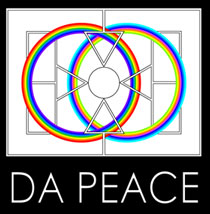 This is the moment of truth for humankind.
—Adi Da Samraj
Throughout His life, Adi Da Samraj called for cooperation, tolerance, and peace among all people, for the sake of our fragile planet and the many creatures living on it. He did this not as a political figure, but in His role as "World-Friend," out of His compassionate blessing-response to humanity and all Earthkind.
In that spirit, increasingly, Adi Da maintained steadfast attention on the state of the world, and frequently concentrated in intensive vigils during times of global crisis. He established His primary hermitage in Fiji, on the meridian of the International Dateline, as a sign that His wisdom addresses both East and West, going beyond ego-made boundaries to embrace all of humanity as "literally one family".
In His passionate concern for our current plight, He wrote His calling for global transformation in the book Not-Two Is Peace: The Ordinary People's Way of Global Cooperative Order. In this book, He points to the urgent need to establish the human collective, civilization itself, on the working presumption of "prior unity". He offers insight into the root cause of human conflict, and how the limited views of conventional religion and politics result. He also outlines the means by which all of us, "everybody all at once," can address the dire state of today's world, giving us the gift of a new paradigm for the transformation of our collective destiny.
Kenneth Welsh reads
Everybody-All-At-Once
from 
Not-Two 

Is

 Peace
. Other essays and recitations from this book can be found at 
www.nottwoispeace.org.
(Audio, 32:28 minutes)
To read essays from Not-Two Is Peace, visit: